As a selection of Wolseley Collection Homeware becomes available to purchase from Home at Harrods, we speak with Stewart Mancey to find out more.
---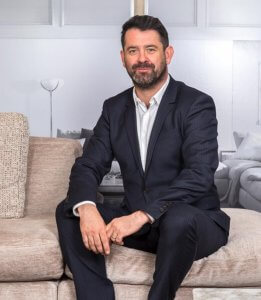 Following the success of The Wolseley Collection's confectionery, teas and coffee being sold at Harrods' world-famous Food Halls, we are delighted to announce that from 10th April, a selection of our glassware, silverware and fine bone china will be available to purchase from Home at Harrods. Here, we asked the man at its helm, Stewart Mancey, to tell us a little more about his role within the revered department store, how he's seen consumer habits change over the years and why he's particularly fond of The Wolseley glassware…
Tell us a little about what your job at Harrods involves and what aspects do you find the most enjoyable?
As Head of Home at Harrods I work closely with our team of expert buyers and the number of exceptional brands we house in-store to curate an elevated and world-class offering for our customers. It is always exciting to meet and engage our partner brands to source the right products that align with Harrods. I'm constantly traveling to discover new and emerging brands and understand how retail for home can be increasingly more immersive and engaging, as well as relevant, for our diverse customer base.
During your time in the industry, have you seen a change in people's buying habits when it comes to homeware? What are they looking for now?
Our customers are ever more aware of the impact a well-furnished home can have on wellbeing; many now choose to socialise and entertain from home and are particular about creating a beautiful space. The home market has seen an accelerated interest from fashion and food retailers developing interiors offerings with an eclectic range of new textiles and ceramics. Our customers really engage with these types of exclusive collaborations and rely on us to find those special pieces that can't be found anywhere else.
Why do you consider The Wolseley a particularly good partner for Harrods?
The Wolseley and Harrods are both iconic brands with a distinctive heritage and provenance within the London landscape. The successful introduction of The Wolseley Collection in our Roastery & Bake Hall was a great indicator of how our customer base is aligned and we're really excited to share this new offering within Home at Harrods.
What initially attracted you to The Wolseley Collection?
The Wolseley Collection is the perfect addition to the already growing presence of the brand in Harrods. The collection showcases the simplicity of creating a luxury experience like afternoon tea from home. The craftsmanship and detail within each piece are elements we really aim to champion and something I know our customers hold with high regard.
Harrods will be stocking a selection of Wolseley glassware, silverware and fine bone china. Do you have any particular favourites from the range and why?
I love to entertain at home and the glassware is a great addition to the collection as well as being a perfect investment piece. The provenance and the exquisite finish behind the Roemer Glasses for example will resonate really well with our customers.
Finally, do you have a favourite memory or experience from when you've been to The Wolseley in the past?
I have always enjoyed visiting The Wolseley for breakfast. It is a great place to escape the bustle of the city and it's such a quintessential British experience. Every detail from the design of the space, the attention from front of house and the food is incredible.
"The craftsmanship and detail within each piece are elements we really aim to champion and something I know our customers hold with high regard."