Celebrate Afternoon Tea Week with The Wolseley from 12th – 18th August.
---
As Henry James said in The Portrait of a Lady, "There are few hours in life more agreeable than the hour dedicated to the ceremony known as afternoon tea".
This Afternoon Tea Week – an annual occurrence in the UK celebrating the great heritage of afternoon tea – take the time to enjoy a special occasion with friends or family at The Wolseley. Or, if you're unable to make it to central London, why not enjoy the experience from the comfort of your own home now that The Wolseley Collection has curated everything needed to create the perfect afternoon tea at yours, complete with silver teapots, loose leaf tea and shortbread.
Furthermore, from 12th – 18th August, enjoy 15% off all items in our 'Afternoon Tea Collection'.
In the restaurant:
Whether for a traditional Cream Tea or our celebratory Champagne alternative, experience Afternoon Tea at The Wolseley any day of the week…
Cream Tea – £12.95 per person
For a traditional Cream Tea, enjoy our handmade fruit scones with homemade jam and clotted cream along with a choice of our teas.
Classic Afternoon Tea – £29.75 per person
For a classic Afternoon Tea, enjoy our assortment of finger sandwiches, fruit scones with homemade jam and clotted cream, accompanied by a choice of our most popular teas.
Champagne Afternoon Tea – £40.00 per person
And for those looking for a little afternoon indulgence, enjoy our celebratory alternative – a full Classic Afternoon Tea complete with a glass of Pommery Brut Royal NV.
At home: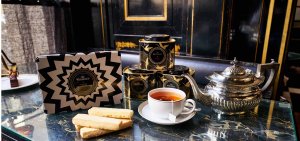 To enjoy the perfect afternoon tea at home, look no further than The Wolseley's Afternoon Tea Collection. With silverware, porcelain, teas and confectionary to choose from, there is something for everyone. A few of our personal favourites include:
Silver-plated Tea Infuser – £35.00
A delightful gift for those tricky to buy for types, our silver-plated tea infuser adds a touch of indulgence to the custom of enjoying loose leaf tea and holds a teaspoon-full for the perfect cup.
Shaped as a teapot itself and engraved with The Wolseley monogram, it will accompany your best tea set and ensure a perfect cup of tea at any time of day.
Artisan Tea Caddy Collection – £44.95
Three collectable tea caddies with a Chinoiserie design inspired by The Wolseley's interior, comprising of a full-bodied Assam, a light and refreshing Yunnan Green and a fragrant Jasmine Bud.
Each of our high-grade, traditional teas are bought fresh each season, directly from small, well established tea gardens.
Fine Bone China 'Tea for One' – £125.00
Championing true British craftsmanship, this fine bone china Tea for One is made exclusively for The Wolseley Collection by Halcyon Days, one of the finest suppliers of objets d'art in the world.
Combining the striking monochrome design of our restaurant's chevron floor with the artisan craft of fine porcelain work, this clever teapot-and-cup set is an elegant addition to your Afternoon Tea experience and the perfect gift for any tea lover.
The Wolseley Champagne Afternoon Tea Hamper – £195.00
A selection of gifts worthy of the most quintessential of British traditions – a celebratory afternoon tea. From our Afternoon Blend Loose Leaf Tea to Salted Caramel Shortbread, Florentines and a bottle of Pommery, a 'Champagne Afternoon Tea for Two at The Wolseley' Gift Card is also included in this limited edition hamper.
For a friend:
And last but not least, did you know about The Wolseley's Afternoon Tea and Champagne Afternoon Tea Gift Cards and E-Vouchers?
Afternoon Tea for Two at The Wolseley – £59.50
Champagne Afternoon Tea for Two at The Wolseley – £80
A particularly popular gift the whole year round, both of the above can be purchased as either a bespoke metal gift card presented in a black box with gold detailing, or as an e-voucher available for immediate download.
P.S. And should you be interested in learning more about how the tradition of Afternoon Tea began, do take a read of our 'Short History of Afternoon Tea', here.