With The Wolseley Collection teas, coffees and confectionary proving popular with those visiting Harrods' famous Food Halls, we spoke with the Head of their Food commerical team, Davinia Pearl.
---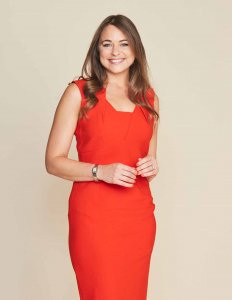 Harrods has been a pioneer in food retail since 1834. Today, the world-famous Food Halls epitomise a contemporary food emporium while celebrating their historic architectural beauty. Davinia Pearl, who has enjoyed a 'love affair with food' throughout her entire career, has lead the Food commercial team at Harrods since 2017. We spoke with her about the importance of quality and exceptional taste when it comes to choosing a brand partner for the department store, her opinion of our Chocolate Tea and her favourite memory of a time spent at The Wolseley.
How did you come to be Head of Harrods Food Halls and tell us a little about what your job involves?
I have enjoyed a love affair with food throughout my entire career; it is a passion of mine and I feel very fortunate that it is a huge part of my life – both in and out of work!
My career in the food industry has been varied. I have worked at large grocery multiples, startups and digital businesses.  I joined Harrods in 2017 to lead the Food commercial team and oversee the fundamental changes to the Food Halls as part of the wider renovation of the store, which is the largest in Harrods history.
Working closely with my team of expert buyers, who have a wealth of knowledge, our goal is to curate the perfect product offering for our customers. We travel extensively to discover new food trends, exotic tastes and how we can blend these to create an exceptional experience, delivering excellence in the specialty fine food space.
My team is undoubtedly my most important asset.
What qualities do you look for when considering a brand partner for Harrods?
When choosing the perfect brand partner for Harrods, I consider the quality of the product and exceptional taste is key. As well as a brand partner which will complement and enhance the Harrods experience.
The Harrods brand is unrivalled luxury for every customer type, unique and with a creative flair.
This drives inspirational and innovative high-end partnerships which is why our customers shop with us.
Why was The Wolseley Collection of particular interest to you?
The Wolseley and Harrods are both iconic British brands which are steeped in heritage.
The Wolseley products encompass quality tea, coffee and confectionary. The packaging is beautiful and reflects the elegance of the Wolseley restaurant, making them the perfect gift for friends, family or of course a treat for yourself!
I am delighted to have this offer in Harrods and excited to introduce it to our customers.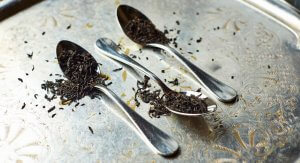 You are stocking a variety of Wolseley blend teas – do you have a favourite?
It is challenging to single out just one favourite, however I drink the Afternoon Tea blend most weekends. The blend of Darjeeling, Black and Oolong is fantastic and uplifting, and will always be a classic for me. It is such a versatile tea, and I think the provenance and refined taste will resonate with our customers.
And have you tried the Chocolate Tea?
I have, and you can't help but be impressed with the amazing smell when you open the tea!  It is very indulgent, with such a velvety smooth texture, it's a real treat.
You are also stocking a selection of Wolseley confectionary. Would you reach for the all Butter Shortbread or a Salted Caramel Florentine if you had the choice?
The All Butter Shortbread.  This is one of my favorite Wolseley product and one of my most popular guilty pleasures in the Food Halls.  It has a wonderfully light crumbly texture and I love the shape of the biscuit, perfect for dunking in a cup of tea!
Do you have a favourite memory from when you've been to The Wolseley in the past?
I have been to the Wolseley on a number of occasions, and always enjoy the lively yet intimate atmosphere.
My fondest memory was kicking off my birthday celebrations there one year, with a delicious brunch with my family.  I can still taste the superb grilled kippers and smoked Kedgeree! My husband and I have been back many times since to enjoy these two dishes again.
And finally, what do you think is the most special feature of the restaurant?
I love the floor, the monochrome geometric marble is an iconic feature which is picked up on the packaging of the Wolseley Collection.  The floor really brings the room together and creates a classic grandeur – which is the perfect way to sum up the Wolseley Collection!