As a selection of Wolseley Collection homeware becomes available to purchase from The Rake, we speak with its founder, Wei Koh.
---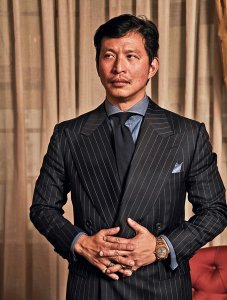 In 2008, Wei Koh founded The Rake – the celebrated publication dedicated to the education and empowerment of style for men. Then, as an extension of the magazine, the pioneering luxury e-commerce platform was launched. With an editorial approach to enrich the shopping experience, The Rake is today seen by many as 'the modern voice of classic elegance.' With a curated selection of Wolseley Collection homeware now available to purchase online from The Rake, we speak with Wei Koh to find out a little more about the partnership, his favourite items and what he always keeps in mind when it comes to buying pieces for the home…
You have had a varied career to date; could you tell us a little about it and how you came to found The Rake?
I came to found The Rake out of vanity. As a man sliding rapidly into middle age, I realised that the world had stopped finding older men relevant so I decided that I better create a publication that reinforces this whole idea, as it had been in every generation previous to ours. In Agnelli's generation, in Sinatra's generation or Fred Astair's generation, a man became his more essential self as he got older and that is precisely what I wanted to do so I started The Rake.
You are considered an arbiter of all things tasteful. What do you look for when it comes to buying pieces for the home or gifts for friends?
I take my friendships very seriously… As a friend you should really understand what the true character of your friend is, what he likes, what he doesn't like. Your gift is a very important thing, it is a symbol of how well you understand or value that friendship. Whether it be small or large, you could give your friend something very lavish, like a timepiece, or you could write them a story and they can be equally meaningful. For the home, I have always said that my secret weapon in the pursuit of elegance is soap.
What is your most treasured possession and why?
It was my sausage dog who has sadly passed away but he is still my treasured possession in some ways, as he resides in an old Chinese porcelain urn on the mantelpiece overseeing me.
Why was The Wolseley a particularly attractive partner for The Rake?
I think it is one of the most iconic dining establishments in London. It is much more than just a restaurant in many ways, it is almost, without actually being a private club, a private club – a rallying point for a like-minded community. If you like the Gritti Palace, if you like Harry's Bar, or the Loosbar in Vienna, if you like all those things that make life worth experiencing, then you'll like The Wolseley.
The Rake are carrying a selection of Wolseley glassware from tumblers to flutes and wine glasses. Do you have a particular favourite and why?
My favourite is the Bevelled Crystal Coupes for their Jazz Age flair…
You are also stocking some exclusive Wolseley silverware. Again, do you have a favourite piece?
The Vintage Silver-Plated Ice Bucket, as accessibility to ice is key for a multitude of reasons.
Finally, do you have a favourite memory from when you've been to The Wolseley in the past?
I remember going after seeing the Pink Floyd exhibition at the Victoria and Albert Museum with my good friend, Hani Farsi. We sat there having this wonderful bucolic dinner, on one side of us was Bill Nighy, on the other side was Lord Puttnam, who produced Chariots of Fire. I think there is an eccentricity and an elegance in terms of the crowd there, the ambience of the place, the food…everything combines to create this multi-layered palimpsest that is greater than the sum of its parts.