We speak with Leo Fenwick as a selection of Wolseley Collection products launch at the distinguished department store across the country.
---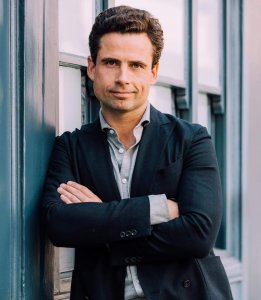 Less than a 10-minute walk from The Wolseley, Fenwick stands proudly as the 'Queen of Bond Street'. But not only on Bond Street, up and down the country Fenwick's independence and individual approach to retailing has seen it stay ahead of the crowd, bringing the finest selection of luxury from around the world across fashion, beauty and lifestyle. Here, we speak with Leo Fenwick about his role in the company and why he feels that for them, The Wolseley is a particularly well-suited partnership.
Tell us a little about what your job at Fenwick involves and what aspects of it do you enjoy the most?
As Head of Brand at Fenwick, I am responsible for making sure we adhere to the Fenwick values, whilst always talking in a way that truly represents who we are. Fenwick has great British heritage and as one of the few remaining family businesses, with a distinctly local approach to retail, we have a unique position in the market. We now have an opportunity to grow the brand domestically and internationally through product and partnerships.
Why do you consider The Wolseley a particularly good partner for Fenwick?
The Wolseley stands for similar attributes as Fenwick. Understated elegance, with an understanding of quality and style. There is always a feeling of exclusivity, whilst remaining accessible to everyone, and we both have a loyal customer who wants the best possible experience.
What initially attracted you to The Wolseley Collection?
The monochrome packaging immediately drew me in, and then I tried the Salted Caramel Florentines and Shortbread and I knew we had to collaborate! The Silverware and Glassware gives the sense of old world glamour; a vintage feel with a modern approach, something I felt was well aligned with Fenwick.
What are your favourite products from the line and why?
I like the glassware, particularly the Margarita-esque glasses with the green stems. They have a unique shape with a thickness of glass that makes them very beautiful. Also the silver salt and pepper shakers – they have a simplicity and lightness to them but are in fact quite heavy. There is a versatility about the collection whereby you can use any of the pieces for everyday use but equally save them for a special occasion.
The collection makes for the perfect gift and because of our location on Bond Street as well as our edit, we find that people are always seeking out something different and special, for themselves or someone else.
Do you have a favourite memory/experience from when you've been to The Wolseley in the past?
Every visit is different and memorable. I have to say that my favourite time is breakfast. It's always quite peaceful and I find it a good way to prepare for the working day ahead. After an early breakfast, I always cross Piccadilly and take a walk up Bond Street to the store, looking at the latest window campaigns and finding inspiration for the next Fenwick campaign or collaboration.
The Wolseley Collection at Fenwick is available to purchase online and at Fenwick Bond Street, Newcastle and Kingston.