As a selection of Wolseley Collection pieces launch online with MR PORTER, we speak with Jeremy Langmead about our latest partnership.
---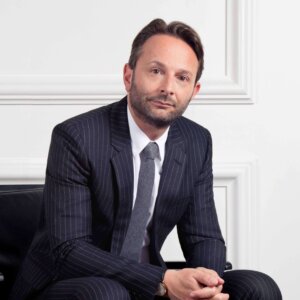 One of the founding members of MR PORTER when it launched in 2011, Jeremy Langmead was responsible for kick-starting the editorial content of the now internationally renowned e-tailer. Following a brief sojourn from the group to assume the role of Content Director at Christie's, Langmead returned to MR PORTER in 2015 as Brand and Content Director. Offering customers "the most stylish products the world has to offer", The Wolseley Collection is proud to have launched a curated selection of pieces on the site this autumn. We spoke with Jeremy Langmead about his favourite items and his fondness for the restaurant itself.

Tell us a little about what your job at MR PORTER involves…
My role is to oversee the content, creative and brand production teams and ensure that any touchpoint our customers have with MR PORTER is on brand: informative, entertaining and inspiring. We have a lot of content platforms – daily online content, a weekly online magazine, a bi-monthly print newspaper, plus, of course, all the social media channels, Youtube, etc – plus all the campaigns, events and special projects we produce. MR PORTER is a hungry beast that constantly needs feeding.
The bits I enjoy the most are coming up with new and effective ways to engage with our customers. The fast-changing tech and media landscape means there is constantly something new to discover and tame.
Why do you consider The Wolseley a particularly good partner for MR PORTER?
We are all about presenting our customers with the best and most stylish products the world has to offer – whether it's fashion pieces from a big global brand or beautiful objects from a unique artisanal one. The Wolseley is a world-renowned restaurant that has a long-standing relationship with many of the people who work here. The product we are selling on MR PORTER is a wonderful take-home slice of the elegance and magic that The Wolseley has managed to sustain since it opened in 2003.
What initially attracted you to The Wolseley Collection?
The buying team were attracted by the allure of the brand, the gorgeous glass and silverware, and the delicious and beautifully-packaged teas.
What are your favourite pieces from the line and why?
The crystal wine glasses and gold-rimmed tumblers are my favourites… They manage to bring a dinner table to life and, when lit by candles, add a Wolseley twinkle to even the most humble of kitchens suppers.
Do you have a favourite memory from when you've been to The Wolseley in the past?
From awkward first dates and long weekend brunches to mischievous late-night dinners with friends and big family celebrations – I've had them all at The Wolseley over the years. Each of them like a special occasion.
And finally, what are you personally looking forward to over the Christmas period this year?
Boxing Day. Because then Christmas is over. Bah humbug.